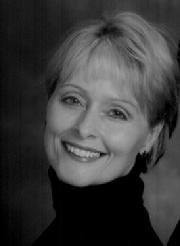 Author Karen Jones hasn't died yet… but this hasn't stopped her from exploring every aspect of one of today's most taboo subjects… and helping you save money along the way! 
This website is a companion to the book. The tab "LINKS & UPDATES by Ch." will help you navigate to the websites mentioned in Death for Beginners. On each chapter's page you will find every website mentioned in the book. And don't forget to download copies of the worksheet!

Click here to buy Death for Beginners now! 

Click here to visit Karen's personal webpage
TALKING WITH  THE ELDERLY OR SOMEONE W/ TERMINAL DIAGNOSIS
Encouraging anyone to plan for their death ahead of time can be a challenge but it certainly can be accomplished with the right approach. The more difficult situation is broaching this subject with someone who is facing a terminal diagnosis or someone who is elderly and has more runway behind them than in front of them. CLICK HERE
From body disposal to funeral planning to writing a will, Death for Beginners shows readers how to plan ahead with practicality, frugality and efficiency. Jones' advice is serious, but her spadeful of graveyard humor is not.
Down deep, do any of us really expect to die? We push it away. After all, the Road Runner always escaped the Coyote. Moose and Squirrel survived countless plots by Boris and Natasha. It was Ensign What's-His-Name in the red shirt who got eaten by the salt vampire, not Captain Kirk.
So clearly, we're immortal … until we aren't anymore.
Death for Beginners makes funeral planning smart,thrifty, stress-free and funny
Written in a time-saving "grab, read, do and get on with your life" bullet-point format, Death for Beginners lets readers quickly grasp essential information, decide what issues are most important to them, and further explore these topics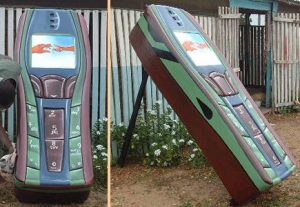 Can't let go of your cell phone? Then go to your final resting place in a Nokia. These hand sculpted wooden coffins are made by the famous Ga coffin carpenters in Accra, Ghana and can be ordered online.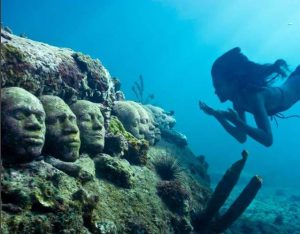 Can't let go of your cell phone? Then go to your final resting place in a Nokia. These hand sculpted wooden coffins are made by the famous Ga coffin carpenters in Accra, Ghana and can be ordered online.
Pardon my asking, but when you die, who's coming to your farewell party?
Do the invitations include your best friend and exclude cousin Vinny? Will your favorite song be played? Will someone read that funny letter you left behind? Don't know? Haven't thought about it? Would like to plan it but jeeze … death?
Death for Beginners is a quick read with lots of information, fast.
This book will help you plan what you want done after you die. Each step of the process contains facts, definitions, options, examples, pros and cons, costs, how to carry out the choice, things that are good to know, and websites for more information. Each chapter also provides easy to use worksheets for you to fill out and a checklist in case you are left in charge when a family member or close friend dies.
There are approximately 81 million Baby Boomers and we're pretty sure that despite what Jim Morrison said, we really are going to get out of here alive.
And while that might be a good feeling to carry around and cling to in the dark of night, the truth is that sooner or later we're all going to, as my Air Force Col. friend says, "mort". Every single one of us. Take another deep breath.
You don't want people running around frantically after your death, trying to put together a funeral, do you?
What if they decide to have you buried and you, having read way too much Edgar Allen Poe about scratch marks on the insides of coffin lids, wanted to be cremated? What if they plan a traditional formal church service and you wanted a celebration on the beach with a bonfire and classic rock blaring from the 8-track?
In the fine tradition of Daniel Boone who forged the wilderness in his coonskin cap, it's time to make some plans.
What if your hateful cousin sneaks that picture of you sporting a heinous 70s hairdo onto the memorial table? What if no one notifies that long ago special friend? You know the one I'm talking about. Yeah, I thought so.
Remember when Dale Evans and Roy Rogers wished us happy trails?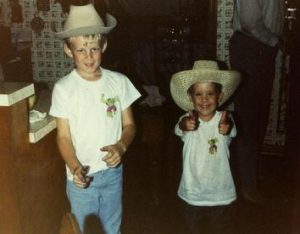 They meant the ENTIRE trail, even the part that leads off into the sunset. Think of this book as a guide to the last stretch of your own, personal happy trails. Because, my friends, all of us are going to go riding into that cowboy sunset and if the trail is well marked, those we've left behind will have an easier time of it.
Saddle up.