Speeches / Workshops / Seminars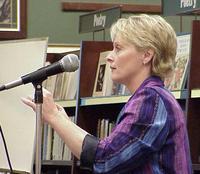 Karen is available for week-day or weekend speeches, workshops and seminars.
These events can be crafted to suit specific audience needs, locations and length of time.
Examples of some events:
Speech: One hour with an additional half-hour for Q&A.
Seminar: Two hours with directed exercises and student/teacher interaction. Q&A for an additional 15 minutes.
Workshop: Three hours with teacher directed exercises and class discussion. Participants leave with a written plan. Q&A at conclusion of event.
For all events:
Worksheet(s) will be provided to the event coordinator to copy and hand out.
Event coordinator may purchase Death for Beginners at a substantial discount to provide copies for participants.
Books can be made available for purchase with author signing at the end of the event. Cash or check. No post-dated checks.
If travel outside of the Hampton Roads area is involved, the following will be added to the speaking fee: transportation (mileage or coach airfare), hotel and per diem.
There is a fee adjustment consideration for non-profit organizations.
Fees are available upon request.
If you are interested in writing workshops and seminars, please contact Karen at information@deathforbeginners.com