Invite Karen to Speak to Your Group
Karen is available for workshops and seminars on issues related to how to plan for your death. She has 10 years of giving writing workshops in colleges, universities and Barnes & Noble Bookstores. References are available on request.
To inquire about scheduling Karen for your event, send an e-mail to:  information@deathforbeginners.com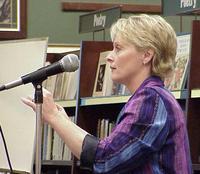 Chesapeake VA Workshop March 24, 2012
Caring for Your Loved Ones By Planning For Your Death
Presented by The Funeral Consumers Alliance of Tidewater
This 4-hour workshop given by Karen Jones examines pros, cons, costs, and how-tos on all topics relating to planning for your death. The workshop promises humor and practicality and many money saving ideas!
For more information and for registration form click
here
To contact FCAT:
757-428-5134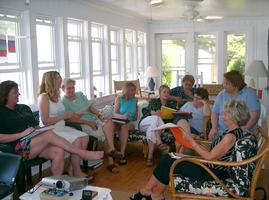 Invite Karen to Participate in Your Reading Group
Karen will be  happy to answer questions from book clubs that are reading Death for Beginners. She will also participate in book club discussions by speakerphone.
To schedule Karen for a 30-minute discussion with your group, contact her at: information@deathforbeginners.com